Laser welding
LRS laser system was developed to meet various needs such as weld repairing for mold or parts.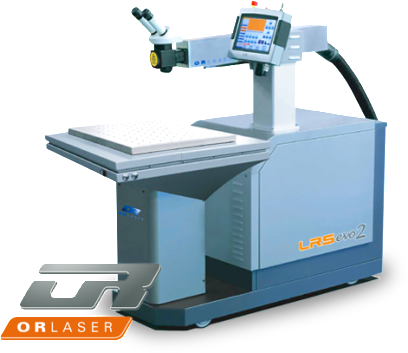 EVO2 Laser System
EVO2 Laser system is precision welding machine utilizing laser energy. Achieved innovative improvement in order to easily repeat technical and accurate operation with NC function.
Feature of Laser welding
Operability
Operate driving the table of direction X/Y/Z with joystick. Driving speed can be adjusted by down level of joystick, fulfill delicate operation which similar to manual operation.

Motion setting
Should realize passing point, and it is possible to set up special driving motion such as roundness and so on.

Coordinate realization
Should realize the angle of work-piece on coordinate, automatic correction of X/Y/Z of driving angle can do even on inclined surface. Operation of realization is remarkably easy.

Procedure of welding repair service
Please consult our sales team about welding details and lead time.
We offer rough quotation.
Send work-piece to us.
Please let us know in advance if you carry work-piece for welding to us by yourself.
We start welding once we receive work-piece.
We work it in minimum lead time.
Return work-piece to customer right after completing.
Might be possible to return it to customer in the same day we receive.
Note :
1. We may need more lead time depends on work-pieces condition and requirement.
2. Maximum work-piece weight is 30kg, it might be changed depends on welding status.
Precise welding and repair service by laser